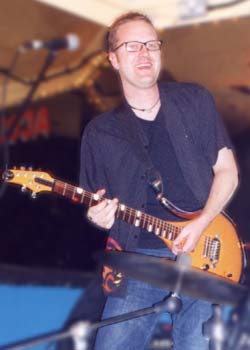 Paul is one of our original users and helped out during the initial design and testing days when the Gus G1 was but a prototype!
An extremely versatile and accomplished musician, Paul has worked with artists as diverse as Tom Jones, Paul Young and Ian Hunter (Mott the Hoople). He is also a skilled arranger/composer helping to pull the BBC's Perfect Day project together a few years back as well as lending his talents to numerous other TV and commercial projects - if you have a good memory for TV adverts, you may recall the Toyota Avensis ad from 2000 that featured Paul playing Hendrix' Voodoo Chile as the soundtrack.
Paul's G1 is a Lambourgini Orange LH model with a unique 4+2 headstock, massive 'V' neck and sumptuous Snakewood fingerboard.